My Blog
Posts for: September, 2018
By Kari Ryan Dentistry
September 20, 2018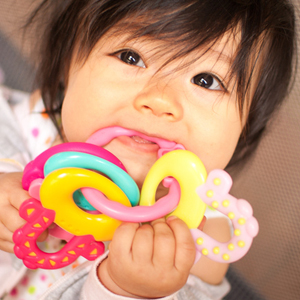 Although it's a natural part of dental development, teething is no picnic for your baby. This process in which each of their twenty primary teeth gradually erupt through the gums usually begins around their sixth to ninth month and may not end until around age three.
These periodic tooth eruptions can cause your baby to bite, gnaw, drool or rub their ears. Teething can also disrupt sleeping patterns, decrease appetite and cause gum swelling and pain that can turn your otherwise happy baby into an unhappy one.
Managing these teething episodes is one of the most common topics parents bring up with their dentists. Since teething is supposed to happen, there's no need for medical intervention unless the child is also experiencing diarrhea, rashes, fever or prolonged irritability associated with teething episodes. In most cases, the best you can do is to make your child more comfortable. Here are a few things to help you do just that.
Provide cold items for gnawing. Rubber teething rings, wet wash cloths or pacifiers that have been chilled can give your child something to gnaw on and ease the pressure of sore gums while the chilled temperatures help numb pain. Be sure, though, that the items aren't frozen because extremely cold temperatures can burn the skin.
Gum massage. You can massage your child's gums with one of your fingers during a teething episode to counteract the throbbing pressure coming from the erupting tooth. Just be sure your finger is clean and don't use any numbing agents unless advised by your dentist or pediatrician.
OTC medication. You can ease mild to moderate teething pain with over-the-counter pain relievers like acetaminophen or ibuprofen in dosages appropriate for your child's age. But don't apply rubbing alcohol to the gums or massage in any pain reliever—both practices can burn the skin. And, as mentioned before, only apply numbing agents like Benzocaine with the advice and supervision of a healthcare professional.
Besides these practices, be sure to keep up regular dental checkups to monitor the teething process and ensure all is going normally. And remember: though it may seem harrowing at times, the teething process won't last forever.
If you would like more information on easing the effects of teething, please contact us or schedule an appointment for a consultation. You can also learn more about this topic by reading the Dear Doctor magazine article "Teething Troubles: How to Help Keep Your Baby Comfortable."
By Kari Ryan Dentistry
September 10, 2018
A loose permanent tooth is not a good thing—and not something you should put off having examined. That's because a loose tooth could soon become a lost tooth.
How we treat it depends on its underlying cause, which could be one of two types. One is primary occlusal trauma, meaning the affected tooth has experienced accidental trauma or higher biting forces than it normally encounters. This usually happens because of teeth grinding habits.
It could also be secondary occlusal trauma. Unlike primary trauma where the supporting gums and bone may be reasonably healthy, secondary trauma occurs because these structures have been severely damaged by periodontal (gum) disease. As the gums begin to detach from a tooth and its underlying bone deteriorates, even normal biting forces can loosen it.
If gum disease is present, our first priority is to bring it under control. We do this primarily by removing all dental plaque (a thin film of bacteria and food particles that triggers the infection and sustains it) and calculus or tartar (calcified plaque). This can take several sessions and, in the case of deep infection, may require a surgical procedure.
On the other hand, if teeth grinding is the primary cause, we'll focus on minimizing the habit and its effects. One way is to create a custom-fitted guard worn to prevent upper and lower teeth from making solid contact. You may also need to improve your management of stress—another factor in teeth grinding—through medication, therapy or biofeedback.
In either case, improved periodontal health will help the gums naturally regain their strong attachment with help, if necessary, from gum tissue or bone grafting surgery. But this healing process can take time, so we may need to secure a loose tooth in the interim by splinting it to neighboring stable teeth. This usually requires bonding rigid material or metal across the back of all involved teeth or in a channel cut along the teeth's biting surfaces. In this way the more stable teeth support the loose one.
Splinting may be temporary as the mouth heals from disease or trauma and the teeth regain their stability. In some cases, though, it may be permanent. Either way, dealing promptly with a loose tooth can help ensure it'll survive—so see your dentist as soon as possible.
If you would like more information on treating loose teeth, please contact us or schedule an appointment for a consultation. You can also learn more about this topic by reading the Dear Doctor magazine article "Treatment for Loose Teeth."